Secure communication tailored to your needs
You want secure messaging, audio/video telephony and data exchange? kaila offers you these possibilities and much more.
We will be happy to show you how you can develop a secure communication solution based on kaila yourself or together with us.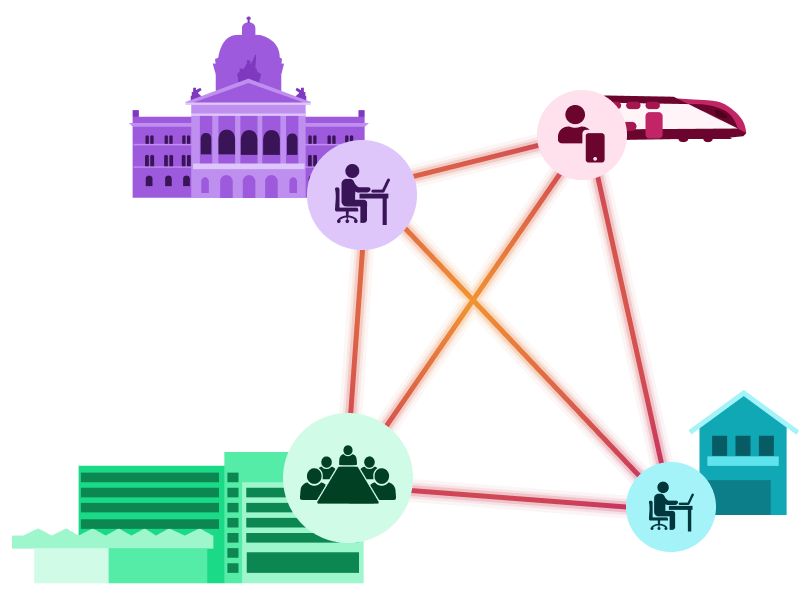 Why kaila
You want the data sovereignty to be with the users and not dependent on a cloud provider
kaila is a decentralized peer-to-peer communication platform without central data storage.
You don't want to build up a large infrastructure, but you also don't want to miss out on the common communication features either.
kaila is decentralized, runs locally on the user's device, and therefore relies on minimal infrastructure.
You want to be able to communicate securely from any device:
kaila is based on web technologies and can therefore be used in any modern browser.
Features
Audio / Video
With kaila you can hold virtual meetings between two or more people
Screen Sharing
You want to show something to your colleagues during a meeting? No problem, with kaila you can easily share your whole screen or only selected windows.
Messaging
Messages can be transmitted peer-to-peer during a meeting. Of course, kaila also supports instant messaging as usual via signalling.
File Transfer
Files can be exchanged during a meeting or sent directly to colleagues. Always encrypted, of course.
Presence Status
If you want, you can signal to your colleagues that you are available. In addition, you can conveniently see in the overview which colleagues are currently present.
Invite / Decline
You decide with whom you want to communicate. You can invite your colleagues and decline any unwanted invitations.
Facts and Principals
At kaila, we strongly believe that your data belongs to you. Therefore, it is our concern to remain true to the following principles in the development of kaila
End-to-End Encryption

Information is end-to-end encrypted with backward and forward secrecy

Data Sovereignty

The data resides with the user and should not be stored centrally

Security by design

Security and data sovereignty was the top priority in the design and development from the very beginning

Device freedom

kaila works in any modern browser, but can also be integrated into native apps

Lightweight

Dependencies on external libraries are reduced to an absolute minimum

Easy to integrate

The platform offers a simple and documented interface, which can also be extended

Autonomous

kaila is not dependent on any cloud or other external services. You have full control over the data flow

Open standards

The platform is a proprietary development, but adheres to public standards
Technical details
kaila is a decentralized platform based on modern web technologies and security standards.
TypeScript
IndexedDB
WebRTC
WebAssembly
WebSockets
MQTT
Public-key cryptography
Authenticated encryption
Double-Ratchet
For the establishment of the peer-to-peer connection and the asynchronous message transmission, a signaling between users is mandatory. In the standard implementation we use a MQTT broker with the SMOKER extension. All messages are encrypted by a double-ratchet algorithm.
Once a direct connection between the users is established, video, audio and data streams can be transmitted directly without a server in between.
The kaila platform takes care of the following topics:
Session establishment
Key exchange
Message authenticity
Encryption of data packets
Further technical details can be found in the documentation.
Documentation
Use cases
Communication between independent parties
Each party has its own communication system. We show you how to build a comprehensive, independent system with kaila in which no party can claim complete data sovereignty for itself.
Concert / Festival / Sport Event
The aim of this use case is to put a temporary communication medium (during the duration of the event) quickly and easily into operation. The users have a simple entry and exit, without their data being stored in the long term.
Enterprise Collaboration
You want a communication system, but you don't want to be dependent on any cloud provider or a proprietary system? If you use kaila, all these points are fulfilled. In addition, you can comfortably use all modern communication features securely.
Roadmap
We continuously develop kaila and are open for feedback
Example implementation Address book

Q3 2022

Background effects in video calls

End 2022
Prices and licenses
Contact us! We will be happy to show you how to best use kaila.
Developer
If you want to use kaila only for yourself or for an evaluation, you can request a developer license from us.
All features of kaila, but may not be used in commercial projects
Enterprise
For commercial use. The cost will be negotiated according to requirements.
kaila can be used without restrictions

Free software updates

Support

SLA possible